JJB and Sports Direct avoid red card in cartel probe
Sportswear firms Sports Direct International and JJB Sports are in the clear over allegations of cartel activity, as the SFO waves play on...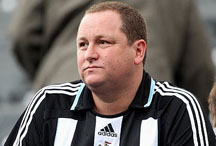 The Serious Fraud Office has announced that it's dropping its investigation into alleged fraudulent activity by the sports retailers, which has been under way since September 2009.
It marks a bit of a damp squib ending for what was the SFO's first-ever criminal cartel probe, having kicked off in rip-roaring fashion with raids on the offices of both companies. While JJB negotiated an immunity clause – it was the one who blew the whistle on the alleged cartel activities – things initially looked grim for the Sports Direct side, with the company facing a possible £140m fine, and in a worst case scenario, 10 years jail time for the bosses involved.
Despite the allegations of unsporting behaviour, the SFO has now decided not to take the investigation of the companies any further. And it has remained frustratingly tight-lipped on the details. But the game's not over – certain individuals are still under investigation, which centres on alleged anti-competitive conduct between June 8, 2007 and March 25 last year.
This covers the period when Chris Ronnie was in charge at JJB. He's a former employee and old mate of Sporting Direct's Mike Ashley, and was suspended in January last year after it emerged that his 27% stake in JJB had been seized by collapsed Icelandic bank Kaupthing. Exec chairman David Jones sacked him two months later for 'gross misconduct'. Or that's what JJB said – Ronnie then came out claiming he'd resigned with a six-figure pay-off.
Such bickering seems par for the course for the two sports retail giants. The more you hear about their world, the more it sounds like an incestuous soap opera - only one where everyone's decked out in shell suits and replica football shirts (Brookside, then?). Last year things turned sour over a £1.5m loan by Ashley to Jones, which was arranged by Ronnie.
Prior to that JJB was fined more than £8m after being found guilty of fixing the price of Manchester United and England replica football tops. That time it was Ashley's turn to don the whistleblower's jersey.
The SFO may be keeping the lid on the details of its on-going investigation, but one thing is clear: with the likes of Ashley and co kicking about, this particular playing field will provide a riveting watch for a while yet.