JJB Sports: the story that keeps on giving
Despite its chaotic recent past, JJB's shareholders seem remarkably keen to back a £100m rights issue.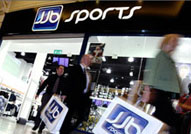 JJB Sports said today that it's planning to raise £100m from existing shareholders via a rights issue, so it can afford to start revamping its stores and boosting stock levels. Both of which sound sensible – although given that in the last year it's fired its CEO, almost gone into administration, had a high-profile scrap with its biggest rival and been fingered by the Serious Fraud Office, we can't help wondering exactly why investors seem so keen to give it such a big pile of cash…

Admittedly the rights issue (the details of which are due to be published today) is likely to be priced at a heavy discount to the current share price, so the new stock will be relatively cheap. And it's possible that any shareholders who have stuck with it for this long suspect that the only way is up. But it's still a bit surprising that demand for these new shares was so strong that JJB has reportedly been able to increase the size of the issue from £60m to £100m. After all, that means it's now going to be raising about £20m more than it's currently worth.

This would be ambitious enough at the best of times, but particularly after the year it's had. Back in February it was teetering on the brink of administration before managing to flog its sports club business and strike a deal with its landlords, but there's also been a series of other mishaps: the ousting of CEO Chris Ronnie when it emerged he'd used his shares as collateral for a loan, news that chairman Sir David Jones was in hock to Mike Ashley (the boss of his arch-rival Sports Direct), and most recently, the launch of an SFO investigation into price-fixing claims.

Of course JJB will argue that this is all in the past: the important part, as far as investors are concerned, is what happens next, and Jones has clearly spun an extremely convincing growth story. The plan is apparently to focus more on high-end sportswear, thus differentiating itself from the cheap and cheerful Sports Direct and the fashion-led JD Sports. The success of the rights issue suggests investors think he's on the right track.

At the same time, it's probably also an indication of how much cash is currently swilling around looking for a home. With fund managers having taken as much money out of the stock market and property and private equity as possible in the last year, most have a lot of cash to invest – which means that even the likes of JJB can get rights issues away with the greatest of ease. Let's hope it's rational exuberance this time round, or the bears predicting a double-dip recession may turrn out to have a point...

In today's bulletin:
Unstable UK the world's top financial centre
Women don't want to work full-time
JJB Sports: the story that keeps on giving
Secret Millionaire seeks frustrated entrepreneurs
Don't write people off too soon, with YouTube