Jo Malone: 'I don't have a single qualification'
YOU LIVE AND YOU LEARN: The perfume entrepreneur taught herself to make cosmetics and launched Jo Loves after selling Jo Malone to Estée Lauder.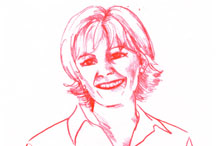 My dad was many things: an architect, an artist, a magician and a heavy gambler. I'd get up at 5.30am to help on his market stall, selling his paintings. By night, I was the magician's assistant. I had 12 white rabbits and a pet dove.
I have dyslexia and really struggled at school. I couldn't tell the time until I was 13 and I still can't tell my left from my right. I don't have a single qualification.
When I was in my teens, my mum had a terrible breakdown after my dad left her. She wouldn't speak; she just rocked backwards and forwards. I borrowed my mum's copy of Harry's Cosmeticology and taught myself to make face creams. I didn't understand 99% of it. The 1% I did understand became my career.