Job cuts in the pipeline at BP
Tony Hayward, the new broom at BP, has revealed his latest spring cleaning plans for the energy giant, after completing the review he launched on taking over from Lord Browne in May.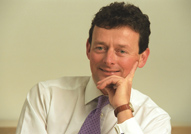 Hayward, who is looking to get the former stock market darling back into investors' good books, said the BP behemoth had become 'too complex'. He wants to simplify the business and make it more consistent by reorganising its structure, chopping out management layers (as many as four in some parts of the business) and slashing costs. Which sounds good – unless you're a middle manager, of course.
Lord Browne has left behind a chequered legacy, and not just because of the tawdry circumstances of his departure. The so-called 'Sun King' hardly put a foot wrong in his first 10 years in the chief executive's chair, quadrupling the company's market value with a series of bold acquisitions. But his last two years were marred by the Texan refinery explosion and the Alaskan oil leak, both of which did significant damage to the company's reputation (and are still to be fully resolved).
As a result, BP's performance has lagged behind its rivals for the last three years, Hayward acknowledged on Thursday – it is much less profitable than its main rival Shell, for example, which he thinks is due to an 'unacceptably high' cost base. And the company's quarterly results (due out later this month) are expected to be the worst for many years, so it's not surprising that heads are going to roll.