Job interviews are 1.5 hours longer now than in 2008
Jobseekers are being forced to jump through more hiring hoops and sit through ever-lengthening grillings to snag new roles, new research has found.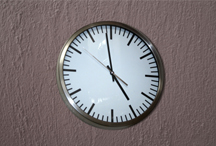 Job interviews are rarely a barrel of laughs but, over the last five years, the process has been getting ever more gruelling. The average interview has lengthened by 27% for the average successful applicant, reckons specialist recruiter Randstad, taking the total amount of time spent preparing for and taking part in interviews to seven hours.

This is according to its latest poll of 2,000 Brits who were asked to tally up all the hours spent in the pursuit of a new role. And while the average stands at seven hours to land the job, nearly 7% of respondents admitted that they had spent more than 20 hours in preparing for and attending their successful interviews.
The days of the good ol' first and second interview are long gone too. Modern employers demand several meetings before selecting a candidate. Even for a junior role, the number of interviews has risen from an average of 1.6 interviews five years ago to 2.4. As for senior roles, employers now interview successful candidates an average of 3.4 times, up from 2.6 five years ago.

In addition, the total time taken to find a new job has risen by 23% since the recession began 2008. Roles are scarce and job hunters in the UK are spending an average of ten weeks and five days in the process of finding and securing a new job, compared to the eight weeks and five days taken five years ago.

And once you've managed to bag that all-important interview, the cross examination is more arduous than ever before, with more than half of those who have interviewed for a job in the last year rating the process as harder than it was five years ago.

But perhaps it's not surprising that employers are becoming increasingly exacting during the interview process. Despite the economic downturn and the increased competition for roles, some Brits are still too lazy to do their homework. According to Randstad's research, one in five Brits didn't perform any research prior to their last interview other than to read the job specification and application. A further 9% relied solely on a company's website for their research.

Just over a third of respondents relied on Google to save the day, using the search engine to find recent articles and posts about the company. One fifth of respondents spoke to employees or former employees of their prospective employer, while 15% consulted industry colleagues as part of their preparation. Just 1% of applicants did the whole shebang: checked out their prospective employer's website, Googled, spoke to current or ex-employees and quizzed industry colleagues.
So, before you head to your next interview, remember: a swift Google search will not be enough to snag you your dream role. Leave a good couple of hours per interview, and expect to be called back twice before finding out if you've been successful. Oh, and apply an exra layer of antiperspirant - the interview is unlikely to be much fun.