Jobless rate stays high despite world growth
Global unemployment remains stubbornly close to 200m, or 6.3% of the workforce, while the numbers of working poor - those living on up to $2 a day - have grown in number to 1.37 billion, the International Labour Organisation reports.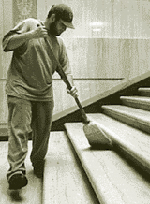 With global economic growth continuing strongly in 2006, overall employment grew, but not sufficiently to reduce joblessness and offset the expansion of the labour force.
The ILO's Global Employment Trends brief shows this starkly with total employment figures steadily rising over the last decade by almost half a billion or 16.8%, while at the same time the employment participation rate actually fell.
Unemployment remains concentrated among women and the young. The participation of under-25s in the labour force has fallen by almost 5% from 51% in 1996 to 46.8% last year, in part reflecting increasing participation in further education.
Women today make up 40% of the labour force and their participation has continued to grow, while remaining far behind men's in most regions. Male participation has fallen across regions from 80.7% to 78.7% in the last decade.
In South Asia 36% of women are employed compared to 82.2% of men. But the highest gap in the female and male labour force participation rate was in the Middle East and North Africa, where the male labour force participation rate exceeded the female rate by around 48 percentage points, although this represents a slight improvement in the gap from a decade earlier.
In 2005, the latest year for which figures were available, nearly half of the world's 2.8 billion workers did not earn enough to lift themselves and their families above the US$2 a day poverty line - just as many as ten years ago. Among these working poor, 520 million lived with their families in extreme poverty on less than US$1 a day.
In East Asia the numbers of working poor - those supporting a family with a single wage of $2 a day or less - fell from 361 million to 347 million, although that still equals 44.2% of the labour force. In South East Asia 56.9% were living on $2 a day or less, and that figure was 87.2% in South Asia. In South and South East Asia the unemployment rate was 5.2% and 6.6% respectively.
The Middle East and North Africa remained the region with the highest unemployment rate in the world at 12.2 per cent in 2006. Sub-Saharan Africa's rate stood at 9.8 per cent, the second highest in the world. Sub-Saharan Africa also had the highest share in working poverty, with 8 out of 10 women and men living on less than $2 a day.
In a sign of the rapid moves toward urbanisation and industrialisation in Asia, for the first time services employed more people than agriculture - 40% compared with 38.7%. Industry was the third largest sector employing 21.3%.
The report shows that job growth is insufficient to reduce poverty and argues that urgent changes are needed to improve human capital development. It wants to see "full, productive and decent employment" added to the Millennium Development Goals in 2007. The ILO calls on the private sector to step up to the plate of creating "decent job growth".
It also called for better social protection across regions, while recognising the need for flexible and productive labour markets.
CSR Asia Weekly, Vol 3 Week 54
International Labour Organisation: Global Employment Trends Brief
Review by Joe Gill