Jobs Trump the environment
The Scots have decided that Donald Trump's golf course is more important than a few sand dunes...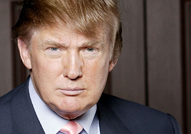 The Scottish Government has given the green-light to the huge £1bn golf resort that US billionaire Donald Trump wants to build in Aberdeenshire. Since part of the proposed course is currently a natural heritage site, environmentalists have been up in arms about the plan. But clearly the Government has decided it can't afford to be too idealistic - with 6,000 jobs likely to be created, First Minister Alex Salmond said today that 'the economic and social benefits for the north-east of Scotland substantially outweigh any environmental impact'. Now there's a precedent...
Trump's new resort will include 'the greatest golf course in the world' (according to Trump), a five-star hotel, up to 500 private homes and presumably, on past form, a road named after himself. The huge development will do wonders for local unemployment figures, but the same can't be said for the protected sand dunes north of Aberdeen that form part of the proposed site - hence why the RSPB and the Scottish Wildlife Trust are so against the idea.
In fact, the plan was actually rejected by the local council back in November, only for business leaders to kick up such a stink that the Scottish government decided to step in and commission a public enquiry (you might think Salmond of all people would be a fan of locally-devolved decision-making, but obviously not). To nobody's great surprise, it concluded that the scheme was too good an opportunity to pass up - even if it does mean selling off a big chunk of your land to Donald Trump...