John Lewis' boss says 'France is finished'. Miaow.
Paris is positively mousey nowadays, compared to the capitalist claws out in London, says Matthew Gwyther.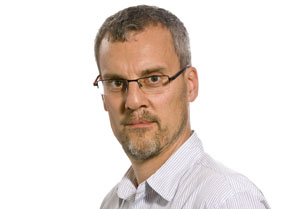 It always amuses me that so many believe the folk at John Lewis Partnership are all cuddly, concerned semi-social worker types who all read the Guardian and put on their open toed sandals over their socks when they get home after a hard day behind the haberdashery till.

Nothing could be further from the truth. Employee ownership doesn't produce pussycats. Andy Street, the boss of John Lewis is a sharp fellow who pings out a claw when needs be. Now he's made some pretty choice comments on the current state of France, reported today by The Times. Street described France as 'sclerotic, hopeless and downbeat' and recommended UK entrepreneurs with investments in the country should 'get them out quickly'.

Further announcing that France was 'finished' he noted. 'I have never been to a country more ill at ease... nothing works and worse, nobody cares about it… You get on Eurostar from something I can only describe as the squalor pit of Europe, Gare du Nord, and you get off at a modern, forward-looking station [St Pancras].'

By an odd coincidence I had supper with two UK business people last night, both of whom had spend long periods living and working in Paris. Both had loved their time there. Both were now happy to be running their businesses from London.

The first is a clever adman who had a Maserati but drove a Twingo around the streets during his stay, lest his Italian stallion was sneered out by his sophisticated Rive Gauche acquaintances or glassed and keyed by some nasty, resentful sans culottes. He left it hidden in a lock-up in the 15th arrondissement during the week, before blasting down the autoroute on a Friday.

He recalled that when his wife was being taught to drive in Paris the parking lesson was a revelation. She gingerly edged the vehicle backwards and forward while trying to get into a narrow slot. 'Non, non, non!' shouted her instructor grabbing the wheel and shunting the cars in front and behind to provide enough room for a proper Parisian-style landing.

Indidentally, for a idea of how sclerotic protectionism works in French society just look at the dire mess that is the French driving school industry here. http://www.bbc.co.uk/news/world-europe-29132505

My second supper companion now works near Brick Lane. He observed that London is like a bubbling cauldron of activity and change. Opposite his office a new Brooklyn Coffee house has open and is rammed. He said that he'd been over to Paris recently and, while walking in the Marais, was able to buy a coffee and croissant from the same establishment that he'd used every day when he lived in the French capital more than 20 years ago. The same French owner - not a Polish or Lithuanian on le salaire minimum - served him.

Plus ca change, plus c'est la meme chose, as they don't say in France. Little appears to change there. Except for the fact, for instance, that in 2005 the French made 3.5 million vehicles, but last year only produced 1.7 million.

One of the reasons for the happy rediscovery of his old croissant-maker is that because of strict planning constraints the boulangerie/pattiserie could only be replaced by a similar establishment. So any vile locust, neo-liberal or Anglo-Saxon chancer trying to open a Subway franchise or an even viler Little Waitrose would be given the bum's rush.

Even if it wanted to, I cannot now imagine John Lewis ever getting a bricks and mortar foothold in France. This is maybe why they're soon to launch a website in Euros. (A spell in a Calais internment camp bedding down next to Afghan and Syrian hopefuls probably awaits Monsieur Andy Rue if he ever dares set foot over the Channel again.)

We have embraced markets and change here and the French are still deeply suspicious of them. It's their way or the highway over there.

We like to think that in the UK we have a fire-breathing dragon of an economy. It is certainly more vigorous than that in France currently. But it's a monster that in Tesco form, for example, gets so ravenous that it scorches the earth all around it before consuming its own tail. It's a monster with energy in London and the South East, but anaemic and out of puff in vast swathes of the North.

And don't for one moment think that the relationship John Lewis has with all its suppliers is a thoroughly cordial one where civilised negotiations are conducted over coffee and croissants in the Peter Jones tearoom. Cats have claws. Mice get eaten.