John Lewis and Dixons warn against Amazon-style tax games
Andy Street, MD of John Lewis Partnership, and Dixons boss Sebastian James have warned that the 'Amazon tax issue' will drive UK retailers out of business without government action.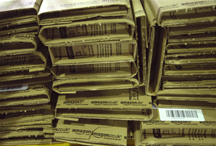 Street said that companies like Amazon, operating in the UK but paying next to no corporation tax, will destroy home-grown retailers as they will be able to 'out-invest and out-trade' them. He said: 'There is less money to invest if you are giving 27% of your profits to the Exchequer. Clearly, if you are domiciled in a tax haven you've got much more [cash]. [Amazon] will out invest and ultimately out trade us. And that means there will not be a tax base in the UK.' Sebastian James echoed the sentiments, by tweeting: 'I agree with Andy Street: retailers making profits in the UK should pay tax in the UK.'
Street's comments come just days after Amazon, Google UK and Starbucks bosses faced questions from a parliamentary committee over their firms' tax affairs. All three American corporations have come under fire in recent months for paying just £30m corporation tax collectively in the last three years, despite enjoying combined revenues of billions of pounds in the UK market. It is thought that Amazon paid just £1.9m in tax on £3.9bn of sales in the UK last year, equivalent to just 2.5% of its profits if calculated according to its global operating margin.
Meanwhile, and no small wonder, UK retail sales fell 0.8% between September and October, taking total sales back to their lowest since May. The drop is unexpectedly sharp as far as analysts are concerned, and is being seen as evidence that higher inflation and still-faltering consumer confidence are hampering economic recovery. It's not all bad though: the high street has been enjoying a period of rising sales, with last month's figures 0.6% higher than they were in the same month the previous year.