John Lewis still feeling festive, but Next sales disappoint
Sales at Next rose 3% before Christmas, while John Lewis saw a rise of 6.2%. Surprisingly positive figures, all things considered...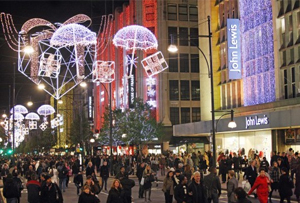 Next and John Lewis became the first major high street retailers to report their Christmas trading figures this morning, and on the surface, things look good. While sales at John Lewis rose by 6.2% over the five weeks to Christmas, sales at Next rose by just over 3% between August and Christmas eve, which the company said will push its full-year profits (to be announced at the end of January) up to somewhere between £558m and £572m – about 4% more than the previous year. All in all, not bad. So why has Next's share price dropped by 4.7%?

Get down to the nitty gritty, and the explanation is simple: while Next's overall figures might look decent, its bricks-and-mortar high street sales were less than impressive. In fact, sales at its 500 UK and Irish stores fell by 2.7% between the beginning of August and Christmas – which is pretty much in line with the rest of the high street.

That's not all. Granted, when compared with other retailers, things at both Next and John Lewis seem to be going swimmingly. But both figures are year-on-year, and since last year, with its icy weather and icier sales, was particularly dire, a 3% rise doesn't exactly represent a retail miracle - although admittedly, John Lewis' figure was more encouraging. Surprising, then, that both retailers seemd to take different views: while Next CEO Simon Wolfson described it as 'disappointing', John Lewis' Andy Street described the department store's figures as 'outstanding' - perhaps the department store is more optimistic about the future than Next...
In fact, Street even seemed cheery about the figures for the final week of the year, when sales at John Lewis dropped by 4.8%. He pointed out that this time last year, shoppers were falling over themselves to get purchases of big-ticket items, like TVs and washing machines, out of the way before the VAT rise came in on January 1. So from that perspective, it's fair enough.
There's a bright side for Next, too: to begin with, it was one of the few retailers to hold its nerve and avoid discounting until after Christmas was over, which did no harm at all to its margins, particularly when compared with some of its more panicky rivals. And while sales at its stores were about as snappy as a polyester skirt-suit, Next Directory, its home delivery business (which includes online) more than offset that, with sales rising by just under 17%. So there was some good news.