John Lewis online record as confidence rebounds
A pleasant surprise: consumer confidence is up again, and John Lewis's website had a record week...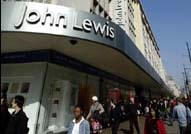 It's not often that we get to report positive stats at the moment, so we were delighted to see this morning that UK consumer confidence appears to be ever so slightly on the up. Market research group GfK NOP said its index rose by two points to -33 in December, the second monthly rise in a row. This comes just one day after official figures showed a surprise jump in retail sales in November – suggesting that the retailers' desperate attempts to get us into the shops appear to be paying off…
Well, perhaps not literally into the shops. High street bellwether John Lewis said today that its website enjoyed a record week, with sales up 13.4% on last year. OK, so it's an easier comparison than high street sales – but this is the second consecutive weekly record, which is not to be sniffed at. The bad news was that its department stores are not doing so well; in fact 17 of its 25 big stores reported a painful double-digit decline in sales, with only Cambridge ending the week in positive territory. Its website success offset some of that – and Waitrose was also marginally up – but that couldn't prevent overall John Lewis Partnership sales sliding 2.9% to £188m for the week.
Given that John Lewis is not exactly the only one feeling the pain on the high street – one analyst recommended that investors also sell M&S and Debenhams stock on the back of today's figures – it was a bit of a surprise to see yesterday's figures claim that retail sales were actually up last month. No wonder most people immediately came to the conclusion that either the retail figures are inaccurate (not an uncommon accusation) or that even if they were correct, it was only because the extensive discounts on offer even from top brands have been dragging Christmas sales a bit earlier than last year.