John Lewis overcomes high street jitters
Department store John Lewis has bounced back from its worst week of the season by promptly recording its best figures so far this year, easing fears that the end is nigh for high street retailers. The Christmas shopping period seems to have finally kicked in – and not before time.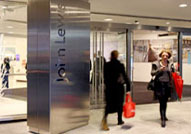 Last week gloomy figures from two giants of the high street seemed to point to a major deterioration in consumer confidence. John Lewis reported a big slow-down in sales growth, while ubiquitous coffee shop chain Starbucks predicted lower-than-expected profits for next year.
However, John Lewis seems to have rapidly turned the corner. After sales growth of just 1.8%.in the week to November 10, last week saw the store rake in £71m – a 7% increase on last year and its best result for the year so far. Apparently the colder weather brought more people into the stores, and sales of furniture, clothes and gifts were all up as people started getting into the Christmas spirit.
It's a welcome return to form for the retailer, which enjoyed a storming start to the year – profits were up by 51% in the first half, and summer sales flourished while rivals were whimpering about the bad weather. With Waitrose and John Lewis voted as the UK's two favourite shops, the group could seemingly do no wrong – so to see sales growth fall to 2.3% for the 15 weeks to November 10 (compared to15.8% last year) was a worrying sign. It will be breathing a big sigh of relief this week.