John Lewis: pension deficit up, bonus down
Retail's national treasure had a tough 2013. Sadly for its 90,000-odd partners, not even 'cuddly capitalism' can sustain a final salary pension scheme.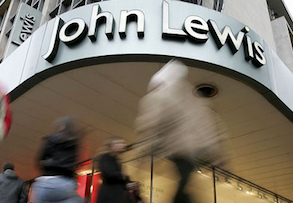 It's John Lewis bonus time, an opportunity for a) analysts to proselytise over the state of retail and b) everyone else to wonder why they didn't take that job at their local Waitrose when they were 15 (or is that just MT?).

This morning, the retailer announced its workers will get a bonus equivalent to eight weeks, or 15% of salary – about £202m, all in. Alright, so it's lower than the 17% they got last year – but the company only made a £329m profit in 2013. And its pension deficit has risen above £1bn…

The retailer posted a mixed set of results: group sales and revenue both rose by 6.6%, to £10bn and £9bn respectively, with sales at Waitrose rising 6% and sales at John Lewis rising 7.5%.

Profits, though, have suffered: operating profit fell by 6.6%, to £423.6m. The company added that this was mainly because of the £50m in holiday pay it accidentally forgot to give workers last year. Without this, operating profit was £470.9m, an increase of 3.9%. Last week, though, the FT reported that insiders had insisted that particular slip-up would 'not be a factor' in deciding this year's bonus.

If workers are upset their bonus is dwindling, they'll be even less pleased about the group's pension scheme: last month it announced plans to scrap its final salary scheme in favour of a 'hybrid' arrangement, which combined final salary and investment-linked pensions. You can see why: the scheme's deficit increased by 22% this year, to just over £1bn.

The group said it made an £85m cash contribution to the scheme last year, but that's not going to be enough. A decision on the scheme's future is expected 'towards the end of the year', it added. Just remember, chaps: never knowingly undersold…
- Hear from John Lewis at MT Live on June 25, along with Lord Heseltine, Facebook's Nicola Mendelsohn and Sainsbury's boss Justin King. Book your ticket before April 1 to receive a 40% discount, paying just £249 plus VAT. Find out more here.