John Lewis and Samsung inject some pre-Christmas cheer
Maybe Christmas won't be such a write-off after all, if John Lewis and Samsung are anything to go by.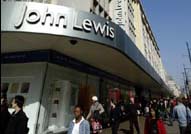 We've been serving up some pretty grim economic news lately, so we felt duty bound to bring you some more positive tidings this morning: retail bellwether John Lewis reported a 9% jump in sales and suggested 'signs of our building pre-Christmas trade are all around', while South Korean tech giant Samsung reported record quarterly profits and said demand for IT and consumer electricals was continuing to grow. Throw in a good news story on the house market – the first annual rise in prices for 18 months, though all the usual caveats (a low base, reduced supply etc) still apply – and it's almost enough to leave us feeling fairly chirpy ahead of the weekend…

John Lewis certainly sounded cheerful enough: Christmas shopping 'kicked off strongly' last week, the retailer said today, with home, fashion and electricals all selling well (particularly in London). It's worth pointing out that JL had a bit of a shocker this time last year, so the comparison wasn't a tough one – compared to 2007, sales were actually down slightly. And the bump in sales of Christmas gifts and cakes might suggest that people are just trying to spread out their festive shopping, as opposed to spending more (or even as much). But with many people predicting that Christmas would be a write-off for the high street, this does at least represent some signs of life.

Samsung was in even more bullish mood today, after capping its remarkable turnaround this year (its shares are up nearly 60%) with record quarterly profits of over $3bn. Its sales shot up nearly 20%, thanks to rising demand for its chips, flat-screen TVs and mobile phones – and it expects profits to keep on rising next year too. Panasonic and Toshiba also finished the quarter in the red – but unfortunately the same can't be said for poor old Sony, which has just reported its fourth consecutive quarterly loss (of £216m - although it did say today that full year losses wouldn't be as bad as expected).

Of course, all these companies are benefiting from their exposure to the Asian market, which seems to be recovering at a much faster rate than the UK. And for a slightly different perspective on the state of play on the high street, look no further than First Quench, owner of Threshers and Wine Rack, which has just gone bust. Not much pre-Christmas cheer there – although with administrator KPMG still hopeful of finding a buyer, perhaps we can all do our bit by heading down to our nearest Threshers tonight, and buying a bottle of plonk to toast today's relatively happy tidings.

In today's bulletin:
John Lewis and Samsung inject some pre-Christmas cheer
WPP's Sorrell: LUV is in the air
France Télécom throws €1bn at its stress problem
Why personal emails are critical to office stress levels
Trust your instincts, with YouTube