John Lewis shines as buoyant Waitrose takes on the high street
Sales are up at John Lewis - and Waitrose is moving into convenience stores and service stations.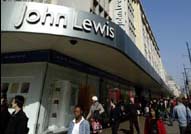 John Lewis provided a bit of high street cheer this morning by reporting that last week's sales were up nearly 9% year-on year. OK, so the equivalent week last year was the one after the collapse of Lehman Brothers, when the entire global financial system was on the verge of total meltdown, so you'd be a bit worried if sales weren't well up. But it's good news nevertheless – and there was even better news from its cooler, richer, better-dressed younger brother Waitrose, where sales were up 13%. It's now planning to take on M&S et al by trialling a range of convenience stores and selling more stuff in motorway service stations. Let's just hope their efforts to reach a new kind of customer don't put off the old ones...

John Lewis's weekly figures tend to get a lot of attention, because they're usually a pretty good reflection of whether people are spending on the high street. So it's presumably a good sign that fashion sales are up 11% (apparently this is being attributed to a new advertising push fronted by model Jacquetta Wheeler – we're unfamiliar with her work, but we've been doing a lot of Google research in the interests of factual accuracy). Electrical and homeware sales were also up; although if we remember rightly, not many people were buying flat-screen tellys and sofas in the wake of the Lehman fiasco, so that's not saying much.

Meanwhile Waitrose is going from strength to strength, as its Essentials range continues to fly off the shelves. It's now planning to try and take on Simply Food and Tesco Metro with its own convenience store format: it reckons it has the potential to open 300 such outlets, partly thanks to an interesting tie-up with Boots, who will provide it with retail space in exchange for selling its health products. Although you may think that more food shops on the high street is the last thing we need (particularly since they're killers for local businesses), Waitrose reckons it can gain access to another 6.5m potential customers. Before we know it, Britons in their thousands will be putting back the fish fingers and stocking up on wild Alaskan salmon fillet instead.

On the other hand, many of Waitrose's well-heeled customers presumably like the fact that it's a fairly exclusive place to shop – they may not like having to share the aisles with the hoi polloi...

In today's bulletin:
HSBC boss Shanghaied out of London as G20 talks banker-bashing
John Lewis shines as buoyant Waitrose takes on the high street
Twitter may be hot, but is it really worth $1bn?
Are entrepreneurs born or made?
Finding cost savings, with YouTube