How John Lewis stole Christmas
John Lewis' saccharine Christmas adverts have lodged it as firmly in the festive imagination as tinsel and overcooked sprouts.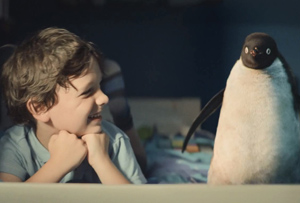 Scrooges, lock up your coal scuttles, grab a bowl of watery porridge, and prepare to bah some humbugs. John Lewis' festive advert launches today, which means Christmas has officially arrived. Even though it's early November.
The advert features little boy Sam and imaginary penguin Monty having a great old time, until Sam realises Monty is lonely for another of his kind. In a touching display of kindness and ingenuity, Sam then purchases a penguin girlfriend for his friend (presumably from some site in eastern Europe) as a Christmas present. He even wraps her up too, which most people would have imagined was illegal. It's really quite moving.