John Lewis's Christmas sales were dramatically lifted by Black Friday
The department store took more cash in late November than the week including Christmas and boxing day.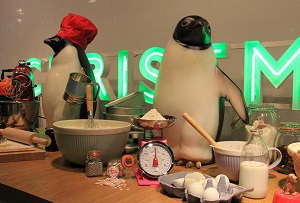 Now the manic Christmas period is over, it's time for retailers to look back, take stock and reflect on whether they've made a decent job of it. This year MT expects that many will find a pattern not seen before, as John Lewis discovered.
Buoyed by its ubiquitous Monty the Penguin adverts John Lewis enjoyed a bumper Christmas period overall, with sales in the five weeks to December 27th up 5.8% on last year to £777m. Yet in the week of Christmas itself, typically the biggest of the year, itself things weren't so rosy – sales actually declined by 1.4%.
In fact, sales peaked in late November thanks to the US-exported consumer orgy that is Black Friday. This helped create John Lewis's best trading week ever, with up 21.8% on the previous year, largely thanks to sales of ipads, as well as more conventionally John Lewis goods like handbags, Nespresso machines and cashmere.