Johnston Press's cost-cutting boosts profits
The addition of the i paper to its roster will be a welcome boost to circulation, but digital vultures continue to circle.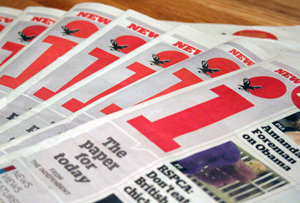 It's an increasingly difficult climate for publishers at the moment, but Johnston Press is battling on – announcing a rise in adjusted pre-tax profit for 2015 (despite falling sales).
Profit increased 22.6% to £31.5m, while revenues dropped 6.8% to £242.3m. Cost-cutting paid off though it won't have endeared the publisher to any of its journalists... Total operating costs were slashed 6.7% to £191.7m. The regional publisher has also warned there could be more cutbacks on the horizon.
Johnston said it had identified 'a number of news brands now considered non-core' which 'will be either divested or run with less costs'. Print circulation of the 220 regional and local titles is in a downward spiral and improvements online haven't offset this.