The joys of hotdesking
SPONSORED CONTENT: Flexible working is the way of the future, but how do you do it well?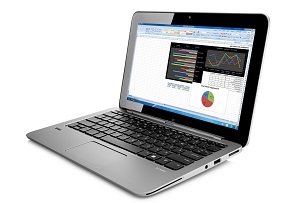 On the surface, hotdesking sounds like a no-brainer. Doing away with fixed desks reduces clutter, promotes creative thinking and improves co-operation between departments – all while minimising those pesky office rental costs. But a policy of 'wherever I lay my laptop, that's my home' can cause trouble if handled badly. Thankfully, there are a few simple things you can do to get it right.
Light is right
Keeping a clear desk might make the office look pretty but it can create serious storage issues. Make
sure you provide generous locker space for all those files, pictures of loved ones and novelty mugs.
You'll also need to make certain that your employees don't have to come to work every morning with a backpack that looks like it was designed for Everest base camp. Are bulky laptops really necessary? Tablet-laptop hybrids like the HP Elite x2 can literally take a load of your back, while still providing all the power of a heftier notebook, thanks to its ultra-modern Intel Core M processor and Windows 10 Pro operating system.