JP Morgan sued for the $20bn sins of Bear Stearns
The attorney general of New York State is suing JP Morgan for allegedly defrauding investors in subprime securities sold by Bear Stearns.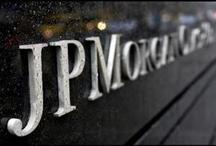 The losses are alleged to amount to over $20bn, on a total of $87bn of subprime bonds sold in 2006-2007. Bear Stearns, you will recall, was the failing investment bank hastily acquired by JP Morgan over the course of a hectic weekend back in 2008. Since the deal amounted to a rescue and was rushed through with the express encouragement of the US financial authorities, bosses at JP Morgan could be forgiven for feeling rather aggrieved at the decision by the state prosecutor to press charges. A lot can change in 4 years…
New York Attorney General Eric Schneiderman said that Bear Stearns 'committed multiple fraudulent and deceptive acts' whilst selling mortgage backed securities – the CDOs, CDSs and CDOs of CDSs which we used to hear so much about back in the dark days at the height of the financial crisis.
The case rests largely on claims that Bear Stearns failed to honour due diligence obligations to ensure that the quality of loans used to create its mortgage backed securities were reasonable. It is also reckoned not to have kept up a commitment to remove loans that went into arrears and replace them with better ones. The allegation is further that these failures were sins of commission rather omission - that Bear Stearns consciously flouted due diligence rather than simply cocking it up.