Just Eat delivers £1.5bn valuation
The online takeaway service is worth more than 100 times its earnings. Is it dotcom madness?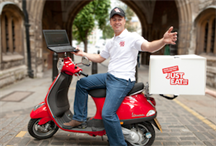 Priced at 260p a share, it's at the top of the range Just Eat was seeking, and more than what the company wanted in January.
It means the online takeaway service was valued at almost £1.47bn when it made its debut on the London Stock Exchange this morning. That's 100 times more than Just Eat's underlying earnings of around £14m, a crazy multiple unhappily reminiscent of the original dotcom bubble of the late 90s.
The company had originally set an initial public offering price range of between 210p and 260p per share, valuing the company between £1.2bn to £1.47bn, but investors were impressed by the firm's rapid growth and experienced management team.