Ka-ching: Harrods prices keep going up
Michael Ward, chief executive of Harrods, says average transaction value at the retailer has risen by 85% over the past five years.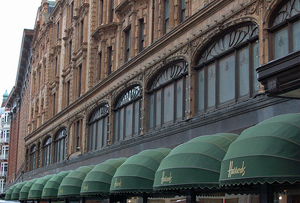 At the beginning of the downturn, everyone was surprised to learn that it was the retailers at the two ends of the luxury scale - Primark and Prada, for example - which thrived. Primark because - well, it's obvious. And Prada because the super-rich don't feel austerity like us mere mortals.

Nevertheless, over the past few months that story has changed for British luxury brand Mulberry, which posted disappointing results as demand from Asian consumers, who until recently have gone berserk for British heritage brands, waned.

But now the chief executive of Harrods has insisted that 'those who believe the [luxury] bubble will burst, I'm afraid will be disappointed'.

At a British Retail Consortium symposium yesterday, Michael Ward, chief executive of the Qatari-owned department store, said it is constantly looking for more luxurious, higher-priced products.

'Consumers' appetite for luxury is growing. They want to be part of this... club, even if it's in a small way,' he said.

'This is clearly shown by our average transaction values. Over the last five years our average transaction values have grown by 85%.'

He added that the retailer is always on the look-out for interesting new products to show its customers.

'We continue to push the boundaries of our price architecture, whether it's exquisite skins or diamond-encrusted iPad covers,' he said.
Hmm. Sounds like 'price architecture' isn't the only thing it's pushing the boundaries of...

- Image: Flickr/konqui