Kalashnikov wants to shoot beyond AK-47s with 'protecting peace' slogan
The infamous Russian weapons maker is trying to rebrand itself. Shame about the sanctions.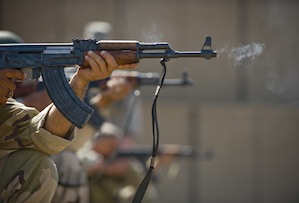 Some companies are indelibly associated with one product: King with Candy Crush, McDonald's with the Big Mac, Coca Cola with, well, Coca Cola. Whether they are able to diversify, though, is another question. Kalashnikov is the latest one product pony to attempt to rebrand itself, in a bid to move away from the AK-47, the iconic, cheap rifle beloved of rebels and revolutionaries across the world
The Russian weapons maker unveiled new logos and a range of shooting and hunting clothing at what The Moscow Times described as a 'blowout' event in Moscow last night, complete with patriotic Soviet songs and young women carrying gun cartridges. It also announced a rather hopeful new slogan: 'Protecting peace'.
'The idea is that weapons should help keep the peace, uphold justice, dignity and the right to life,' the company said in a wonderfully ironic statement, according to the Telegraph. 'With a weapon in hands, people can ensure a peaceful future for their families, the nation and the country.'