Karen Blackett is the first businesswoman to top the Black Powerlist
The MediaCom chief executive is keen to be on a FTSE 100 board, but has never been asked.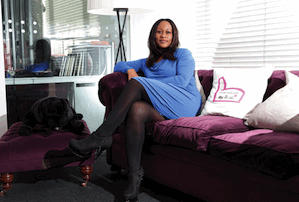 Karen Blackett, the chief executive of the UK's largest media agency MediaCom, has become the first businesswoman to top a list celebrating the 100 most influential black people in Britain.

Blackett, a former MT 35 Under 35er, beat shadow business secretary Chuka Umunna, Oscar-winning 12 Years A Slave director Steve McQueen and Formula 1 driver Lewis Hamilton to take the number one spot in the Black Powerlist 2015, run by Powerlist magazine.

MediaCom is the largest media agency in the UK, managing more than £1.2bn of ad spend for clients including Proctor & Gamble and Shell and employing 1,000 people. Blackett has worked at the company, which is owned by WPP, for 20 years and has been chief exec since 2010.

'I still think it's odd that I'm the only senior black woman in the advertising industry,' Blackett, who was awarded an OBE in June, told the Telegraph. 'I've been fortunate to have worked for employers that have recognised talent and potential. I haven't been judged on gender or skin colour.'

The single mother, who is trustee of an adoption charity and slept rough earlier this year to raise money to support homeless young people, said she has never been approached to be on a FTSE 100 board, although she would take 'an opportunity where I thought I could contribute'.

'I'm not sure if the headhunters for executive boards realise there is life outside of middle class white England,' she added.

Blackett's comments come after Vince Cable launched a review into the lack of ethnic minorities in the boardroom last month. They make up just one in 15 senior management roles and Business in the Community found the number of black people at the top level fell 42% between 2007 and 2012.
Powerlist 2015
1. Karen Blackett - CEO, MediaCom UK
2. Ken Olisa - Chairman, Restoration Partners; Non-Executive Chairman, Outsourcery Plc
3. (Joint) Chuka Umunna - Shadow Business Secretary; Helen Grant - Minister for Sport and Tourism
4. Sandie Okoro - Global General Council, HSBC Global Asset Management
5. Steve McQueen - Artist/Director
6. Matthew Ryder QC - Barrister
7. Sharon White - Second Permanent Secretary of the Treasury
8. (Joint) Lenny Henry - Comedian, actor, writer; Idris Elba - actor, producer
9. Adrian Joseph - Director, search advertising Northern & Central Europe, Google
10. Lewis Hamilton - Formula 1 driver, Mercedes
Are you an ambitious young businesswoman? Hear from speakers including Thomas Cook boss Harriet Green, Links of London founder Annoushka Ducas and M&S style director Belinda Earl at our Inspiring Women event on 20th November. Check out the progamme and book tickets here.