Katherine Garrett-Cox is stepping down from Alliance Trust's board in shake-up
Although the embattled chief executive will still be boss of the trust's investment arm, the 'curse of Veuve Cliquot' strikes again.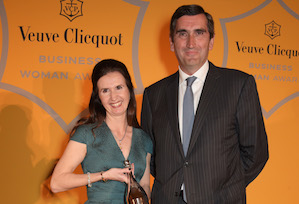 Katherine Garrett-Cox is stepping down from the board of Alliance Trust, as the investment trust overhauls its structure and strategy in an effort to end its underperformance, after a bruising battle with an activist shareholder last year.
Garrett-Cox is not actually leaving the Dundee-based company – she'll become chief executive of Alliance's investment arm after the group's board becomes 'fully independent', with only non-executive directors. Nonetheless, it marks a climb down after she initially managed to fight off activist hedge fund Elliott Partners, although it did get two out of its three desired board directors appointed in April.
Six months later, it's clear there's still enough concern about the 127-year-old trust's performance to warrant a full shake-up. As well as the new independent board, Alliance is cutting costs and getting rid of its fixed income, mineral and property assets to focus on equities.