How to keep it in the family
If you want your children to take over the family business, you need to start the process very early...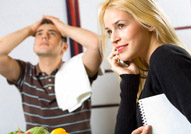 The long-term success of any family businesses depends on the passion and commitment of the next generation – and the best way to foster this is to get them interested in the business from the tender age of six years old, according to a new London Business School study. The research, which was written by academic Asa Bjornberg and Professor Nigel Nicholson, argues that involving your offspring at this early stage gives them a sense of identification with the business and a long-standing attachment to it – a combination that Nicholson calls 'emotional ownership'. Get this right, and your family business is in safe hands...
City slickers might find the notion of family businesses a bit quaint - but they still account for about 30% of UK GDP. So there's a big incentive to keep them thriving. However, this is getting a lot harder than it used to be. There was a time when the next generation would have naturally expected to inherit the mantle when the folks retired – but these days fluid labour markets and changing mores are making this kind of straightforward succession increasingly rare. In fact, according to Grant Gordon of the Institute for Family Businesses, only about 10% of family businesses now survive beyond the third generation.
For Bjornberg and Nicholson, the key is working hard to develop strong bonds to the business – and starting early. 'Emotional ownership', as they call it, apparently peaks between the ages of 31 and 40, but you need to involve your offspring while they're still in short trousers, whether this means including them in dinner table discussions or work events, or even getting them in for work experience (though probably best to wait until they're in their teens for that one). Having more kids is also a good idea – EO apparently increases with the number of siblings, and each new addition is just as likely to feel an attachment to the business.