Keep your finger on the pulse, with YouTube
Tastes move on. Tips on staying relevant, with Alan Partridge, Reggie Perrin and the League of Gentlemen.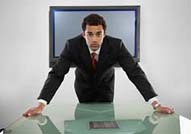 Retail tastes constantly change, but you have to at least be aware of the zeitgeist. That's often harder than it looks, for people as well as companies. When Alan Partridge tries to get down with the kids, he ends up worse off than if he'd just kept his trap shut. Best advice: watch how things are moving, but don't try too hard.

Changes in taste can often be so baffling that they're easy to dismiss - until it's too late. With his new Grot shop, Reggie Perrin aims to peddle utter rubbish to people - and announce to people he's doing just that - as a gesture of defiance to the world. To his own amazement, the till keeps ringing. Never rule any idea out. Still, best stick to selling stuff that actually works.

Ikea has advanced the furniture retail formula, making others likely to look outmoded and suffer as a result. You need to offer the right services, and in the best possible environment. The joke shop from League of Gentlemen takes the opposite tack. If it rings a bell, you're in trouble.

In today's bulletin:
RBS becomes the Royal Bank of All of Us
Retail giants: You will spend money!
Curry King Gulam Noon trapped in Mumbai chaos
MT's Week in 60 Seconds
Keep your finger on the pulse, with YouTube