Keep mishaps under wraps at the office Christmas do
As we approach the last working week before Christmas, offices around the country are gearing up for the Xmas bash. Simon Culmer from comms firm Avaya has this advice on how to ensure your office party is free of festive 'faux pas'.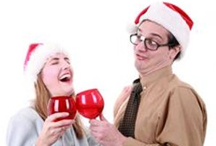 Financiers bank on having a good time
Adhering to their reputation as party animals, people who work in finance are the most likely to regret their behaviour at the Christmas party. What's more, according to a survey of 2,000 workers by OnePoll on behalf of Avaya, well over a third of the UK's number crunchers said their embarrassment was a result of over-indulgence at the bar.
This is worrying, especially as a fifth of finance professionals expect this year's Christmas party to be bigger and better than ever before. In an industry known to work hard and play hard it's probably inevitable that there will be a few sore heads in the morning but bosses can help minimise the damage – and the embarrassment - with a polite request to the senior management to lead by example. Have fun, let your hair down but don't do anything you wouldn't like your mother, wife or girlfriend to see on YouTube is probably a good maxim to go by!