Ken Clarke to become UK trade envoy
Veteran Tory minister Kenneth Clarke has accepted a new role as the UK's travelling trade envoy.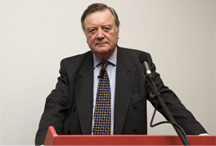 He has been a stalwart of Conservative politics for more than 40 years, holding just about every major office of state you would care to mention, including chancellor of the exchequer, home secretary and justice secretary, but never PM. Now he will focus on promoting British skills and expertise on foreign soil, largely with the explosive emerging economies such as China and Brazil.
With China, the bulk of his energy will be used promoting healthcare expertise, a market which it is thought will come to be worth around £400bn over the next 10 years. In Brazil, the focus is likely to be on energy – the PM has already primed the pump with a recent visit to Brazil, so old Clarkey will be hoping he can build on whatever rapport Cameron managed to drum up whilst he was over there.
At 72 years of age, we're surprised he has accepted such a job, given that it will entail a gruelling schedule of world travel, not to mention the meeting and greeting of dignitaries and important trade visitors at home. It is also a surprisingly serious role given that the recent cabinet reshuffle made it seem as though Clarke was 'being retired' by Cameron: he was given a role as minister without portfolio in the Cabinet Office.