Ken Livingstone gets behind Nat Rothschild's new taxi app
The former London mayor says that cabbies stand to benefit from Maaxi.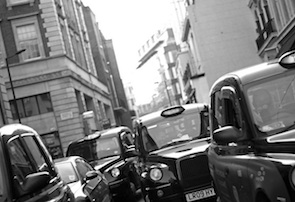 The recent clashes between taxi-hailing app Uber and London's cabbies are well documented. Threatened by the pace of technological change, black cab drivers have sought to protect their interests by lobbying City Hall and bringing the streets of central London to a standstill.

But a new app backed by financier Nat Rothschild hopes to address this in a more non-Luddite way, by offering what it claims will be a better option for cabbies and commuters alike. Maaxi, expected to launch in the next few weeks, boasts the same features as other journey-planning apps like Citymapper and Google Maps, but with a key difference – it offers seats in shared cabs.

'TfL [Transport for London] commissioner Sir Peter Hendy said only last week that we will face riots if London's old transport network does not evolve and become cheaper and more efficient,' Rothschild wrote in City AM today.

'Maaxi fare sharing not only makes the taxi ride cheaper for the commuter, close to the price of subsidised public transport, but also pays the driver much more than a normal taxi ride would pay.'

The app's even bagged itself an unlikely advocate in the form of former London mayor Ken Livingstone, who has criticised Uber for its impact on black cabs.

In an open letter to taxi drivers, Livingstone said, 'This is truly a 'saving instead of surging' revolution, and will allow every Londoner to use black cabs. It is what technology should do for the world and I wholeheartedly support it.

'It will help London and I hope the taxi trade will promote Maaxi among Londoners and ensure that drivers stand behind a company that has created a "People's App". And in so doing stop Uber driving the black cab trade into extinction!'
Hendy also chimed in on the issue of Uber this week, suggesting cabbies have nothing to fear. Speaking at a fringe event at the Conservative Party Conference, he said, 'There's always likely to be a future, in the centre of one of the world's great cities, for a taxi service that you can hail. I don't come out of my office and think I'm going to get onto my phone to look for a car. I look down Victoria street and I find a vacant taxi.'
Maaxi could well be a boon to cabbies, but if drivers want to stop losing business to Uber then they might also need to think about improving their prices and service, rather than throwing their toys out of the pram.