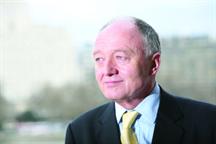 Ken Livingstone says, 'Let's end the X Factor slug-fest'
Quote of the day: Yesterday's mayoral stand-off on LBC radio nearly ended in fisticuffs. Boris Johnson found himself having to share a lift with Ken Livingstone after his rival had openly challenged him about his tax affairs on air. The current incumbent turned the air blue with expletives: 'It's all f***ing lies,' he said. Today, Livingstone called for an end to the spat: 'There is a danger that things are considerably out of hand,' he said. 'Let's end the X Factor slug-fest.' Easy to take the high road after you've made your point though, eh Ken?
Published: 04 Apr 2012
Last Updated: 09 Oct 2013
.
Find this article useful?
Get more great articles like this in your inbox every lunchtime