Kerry Katona's payday loan cameo banned by ASA
'We've all had money troubles at some point, I know I have,' says Katona in the new TV ad for payday loan firm Cash Lady. But her promise of 'fast cash for fast lives' has now been banned by the advertising watchdog.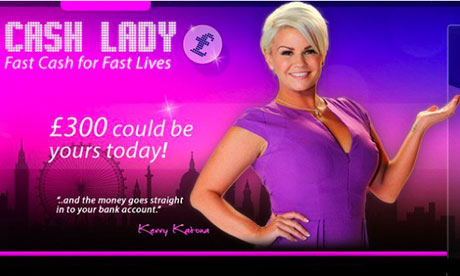 Reality TV star Kerry Katona's return (yet again) to the somewhat sleazy world of TV advertising has already come a cropper. The ex-Atomic Kitten star was recruited to appear in an ad for Cash Lady, a paday loan business targeting women. But her script for the ad, which read, 'You could see your bank and fill in loads of forms, but is there an easier way to get a loan. It's dead fast too. Fast cash for fast lives!' has been deemed inappropriate by the Advertising Standards Authority.
Katona, who talks about her 'money troubles' during the ad spot, was declared bankrupt in 2008 after failing to pay a tax bill. As a result, the ASA has received around 30 complaints calling the ad irresponsible for glamorising Katona's earlier financial problems and encouraging people facing hardship to borrow money.

Cash Lady, which offers loans of up to £300 a month with an annual percentage rate of 2,760%, says that Katona was chosen precisely because she has had money problems, as customers would be able to 'relate to her'. Parent company PDB UK added that as Katona did not make a direct reference to bankruptcy, the ad was not irresponsible.

However, the ASA has countered with a warning that Katona's 'celebrity' (ahem) status could mean that viewers interpreted the 'fast cash for fast lives' strapline as meaning that payday loans could help fund a high-flying lifestyle.
'We considered that references to [Kerry Katona's] financial problems alongside the presentation of the ad more generally had the potential to encourage vulnerable viewers with financial problems and/or restricted credit from seeking to resolve them through the payday loan service and concluded that the ad was therefore irresponsible,' reads the ASA ruling.