The kids are not alright
The Government admitted on Tuesday that about half of the new jobs created on its watch have gone to immigrants – despite Gordon Brown's populist tub-thumping about British jobs for British workers. But on the evidence of a new survey of potential university students, it's no surprise that we've had to rely on people brought up in a totally different education system.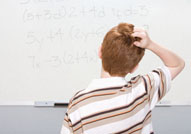 Improving the employability of UK graduates is a favourite cause of both political and business groups, who have all drawn attention to the need for Britain to have a more skilled workforce to compete globally. Although more students are going to university than ever before, they're still not entering the world of work with the right skills.
According to careers charity Inspiring Futures, the problem lies in the skills development and advice they receive at school – or lack of it. In a survey of 14-18 year olds planning to go to university, the charity found that 68% wanted more careers advice at school, and just 10% felt they had time to develop work-related skills prior to university.
What's more, a mere 3% are basing their future job plans on advice from a career advisor or teacher. That's the same proportion as those influenced by the lives of fictional characters, which tells you all you need to know about the current standard of careers advice.