Kids teach us a lesson
MT was in London last night to help judge the final of the National Schools Business Competition. Leeds Girls High School carried off the top prize, but if the overall quality of the young business brains on show is anything to go by, the future of UK plc is in safe hands...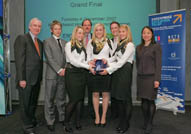 The annual competition, which is run by Enterprise Education and the Ogden Trust, aims to find the most business-savvy sixth formers in the country. All eight of last night's teams had already battled through their local and regional heats, so we were facing the crème de la crème – and it didn't take them long to prove as much.
The schools were set a business problem that would have Sir Richard Branson tearing out his greying beard: to come up with a way of making money from a concierge service aimed at American tourists visiting London. The eight teams of three had three hours to write a business plan, come up with a two-year financial model and then turn the whole thing into a snappy ten-minute Powerpoint presentation. Needless to say, MT was happy to be judging the competition, rather than taking part in it.
But despite the time constraints (and despite the business idea being a bit rubbish, in our humble opinion - though that made the question much more fun) the eight teams came up with some remarkably assured presentations, with the originality of their thinking putting most corporate 'ideation' to shame. And they retained a steely resilience in the face of the judges' sub-Dragons' Den-style questioning afterwards.