What kind of leaders will get us through the recession?
It won't be the tough guys who give orders, cut costs and take no prisoners, says one leadership guru...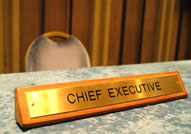 According to Daniel Goleman, the psychologist who pioneered the understanding of the role emotional intelligence plays in leadership, the secret in lean economic times is to be able to inspire high performance in others – and this requires social power, based on empathy.
'You can be brilliant as an individual and outstanding in your specialist area, but if you lack empathy you will fail,' he told MT. Goleman, who's one of the luminaries assembled for the Leaders in London conference this week, firmly believes that the path to great leadership begins with self-understanding and self-control. In fact, these were the key attributes that led to Obama winning the US presidential election, he suggests. 'The way he responded to the financial meltdown made the difference. He was completely calm, clear and focused. McCain by contrast, had a small panic and behaved erratically, and that made people question his leadership abilities and cost him votes.'
Gordon Brown also seems to thrive on adversity. In Goleman's view, would he also count as an outstanding leader? 'Both appear unflappable, and calmness is important, but it is not sufficient. Obama is also a good communicator. People trust his choices. When he named his economic team, the markets calmed.'