King holds court
Mervyn King got another grilling from the Treasury Select Committee this morning, on the day the Bank of England promised to guarantee another swathe of Northern Rock's debts.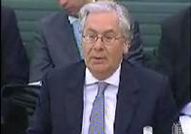 The Bank has already guaranteed the savings of all the Rock's customers – which it was forced to do to stop the run on the bank – plus its asset-backed wholesale deposits. This morning it said it would also guarantee some of the Rock's other liabilities – so it will now cover things like the bank's exposure to derivative contracts (which aren't secured against anything at all).
The Governor is attempting to prop up the bank's battered credit rating – because if it sinks any further it will make it even harder for the two remaining bidders, Virgin and Olivant, to raise the money necessary to fund their bids. They're already having trouble persuading the banks to cough up, which is why the Treasury promised yesterday to make its adviser Goldman Sachs available for financing purposes.
The statement came on the day of the Governor and his deputy Sir John Gieve's latest appearance before the Select Committee, where they were again baited about their actions (or lack of them) during the recent crisis. Merv denied the need for 'drastic surgery' to the Tripartite Agreement between the Bank, the Treasury and the FSA. But he refused to rule out nationalisation, saying only that 'nothing is inevitable'.