King readies the troops for a long march
Bank of England Governor Mervyn King has finally admitted what we already knew: the UK is in recession...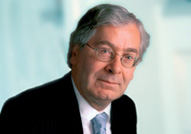 In a speech to the CBI and local business groups in Leeds last night, Mervyn King became the first big economic policy-maker to use the dreaded 'r' word: 'It now seems likely that the UK economy is entering a recession,' he told the assembled bigwigs, an admission that will presumably come as no surprise to anyone. However, he also offered some reasons for optimism: he believes the bank recapitalisation scheme will prove to be the turning point, and the UK economy will now slowly recover. 'The long march back to boredom and stability starts tonight in Leeds,' he insisted.
As ever, King provided a clear and elegant explanation for the 'financial turmoil' that has gripped the markets in the last year. He suggested that the worst of the crisis had been precipitated by the collapse of Lehman Brothers in September, which sparked 'an extraordinary, almost unimaginable, sequence of events', culminating in the huge state bail-outs around the world. 'It is difficult to exaggerate the severity and importance of those events,' said King. 'Not since the beginning of the First World War has our banking system been so close to collapse'.
There are causes for cheer, he insists: the recapitalisation plan will eventually get banks lending to each other again (albeit not at 2007 levels), while the huge recent falls in the oil price will also help to boost real incomes. But there's more pain to come in the short term, particularly in the housing market – indeed, the latest estimates from the National Institute for Economic and Social Research today suggest the UK economy will contract by 0.9% in 2009 (that's four successive quarters of contraction, two more than we need for a recession). Banks will also suffer as they start pursuing a 'rather boring' monetary policy.