King of Shaves is back to battle Gillette
Entrepreneur Will King has had a difficult couple of years, but is back with a brand new razor he thinks will shake up the shaving market.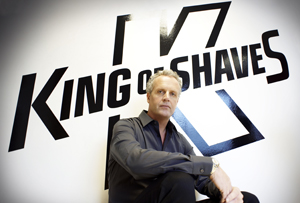 Will King boasts that he is going to shave billionaire Sir Richard Branson in space. For some businesspeople that would be a bit far out – literally, but King's eyes sparkle at the thought of advertising in space.

You wouldn't put it past him: King, the smooth face of King of Shaves, since he founded the company in 1993, is known for his confidence and quirky marketing - he once promoted his products at Speaker's Corner in Hyde Park.

However, beneath the swagger of one of the original dot-com entrepreneurs (he famously bought 'Shave.com' for £35 in 1995 – enough to qualify him as a dot-com entrepreneur back then), King is cautious. Last night, he launched a new razor, having spent £6m and five years developing brand new technology, a product he says could be his 'iPhone moment'.

That said, it's been a tough few years for the self-styled King of Shaves: last year, King had to spend over £1m on legal fees to patent his new product and protect his existing razors. In 2011, he rejected an offer for the business from Spectrum Brands, owner of Remington, which press reports at the time claimed valued the business at around £45m. A fall-out with Spectrum ensued, and since then, King has been unable to sell his products in the US, where the company had 40% of its sales. To make things worse, beards are in vogue and razor sales are down.
King of Shaves' new Hyperglide razor
'The last four years have been incredibly tough for the business, and at times I've felt as though I've been pushing water uphill,' King says. 'But I think the future for the brand is a great one. Beards are still growing, stubble on ladies' legs is still growing, the recession is receding - which is good.' ... if a little gross.

We meet in Home House, a private members' club near Bond Street, where dark walls are adorned with Rolling Stones posters, and a sparkly drum kit hangs above the stairs. 'I was one of the first to join back in '99,' King tells me. 'It was set up as a sort of entrepreneurs' dot-com club.'

King suits the club's late 90s vibe, dressed in a black, snakeskin-effect bomber jacket and black jeans, with neatly trimmed grey hair. But with his new razor, he has his eyes very firmly on the future.

King of Shaves' first product was shaving oil, after King realised that his girlfriend's bath oil stopped him getting razor burn. In 2002, he trademarked King of Blades and set about developing a razor – no easy task in a market King estimates has 20,000 patents (King of Shaves has eight). The Azor was launched in 2008.
'We've sold six million handles and about 35 million cartridges,' King says. 'But [the Azor] wasn't good enough – the differentiation of the product, the performance, everything. We needed to do it better.'

With just 3% of the UK razor market compared with Gillette's 84%, King was thinking bigger. A keen sailor, he came across superhydrophilic (literally 'super water loving') sprays used to make boats go faster, and asked his R&D team to investigate. They found a Sheffield University spin-out in March 2009 that was coating surgical catheters, and adapted their find for razor cartridges.

'You can shave just by adding water,' King enthuses. However, he admits that he won't be putting himself out of business with the Hyperglide. King of Shaves' oils and gels have a 9% share of the wet shaving products market. However, in testing, they found that half of people still preferred to use products to shave and King points out it helps the Hyperglide cartridge last longer.

King constantly references mobile phones: he's clearly hoping to be the Steve Jobs of the razor world.

'Before iPhone launched in 2007, Nokia was sitting on a 61% share of the worldwide phone market,' he says. 'And within five years it's blown up not just Nokia as a business, but it's blown up Blackberry and it's allowed Samsung to come along. It's done that by simplifying the experience, and that's what we're trying to do.'

King knows that imitating Apple and going up against the might of Wilkinson Sword and Gillette, which was sold to Proctor & Gamble for $57bn back in 2005, won't be a walk in the park.

'It's a bit of a [gamble] launching this,' he admits. King optimistically predicts future annual wholesale sales of of £2m-£5m for his new product. It's not entirely outside the bounds of possibility: the razor will be sold for £9.99 in Asda, Boots, Sainsbury's and Tesco from the end of January, entering other retailers by the end of March.

'A lot will depend on how aggressively we're pushed back [by] resistance in retailers from our competitors, who can basically spend to stop us growing,' King says. 'Since we launched the Azor back in 2008, almost all our competitors, almost every month run 50% off deals on razor handles.'