Kingfisher boss heads for checkout
If you've tried to buy anything in your local B&Q recently, chances are that you'll have some insight into why Kingfisher parted ways with chief executive Gerry Murphy yesterday.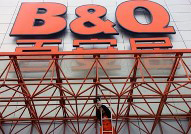 Murphy has been running the group since 2003, but has failed to resolve declining profits and a stagnant share price. B&Q, which still accounts for almost half of Kingfisher's sales, has had a tough few years. It may have been expanding in China, but in its core UK market the standards of its stores left a lot to be desired.
When one MT staffer went in to buy paint recently, it took about ten minutes to find a sullen member of staff, who grudgingly informed him that all the white paint was stuck at the back of its warehouse and they couldn't get it out. This kind of customer service is, by all accounts, not uncommon.
To be fair to Murphy, he has had to operate in a tough market. With interest rates high, and confidence in the house market shrinking, consumers were less willing to save up and invest in a new bathroom or kitchen – B&Q's stock-in-trade. It also faced stiff competition from the likes of Wickes and Homebase.