Kingfisher profits fall flat on French sales
Sacrebleu! The B&Q owner's Screwfix sales weren't enough to boost profits dragged down by its French arm.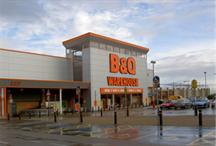 B&Q owner Kingfisher, Europe's largest home improvements company, hasn't had a happy autumn, with feeble French sales dragging down its third quarter results.

Kingfisher's retail profit rose 1.7% to £271m in the 13 weeks to November 2nd, held back by flat like-for-like sales across the channel, where the company gets over 40% of its revenue. The results follow the DIY giant's failure to capitalise on Britain's scorching summer, during which first half profits fell 1.6% from the previous year.

Although total sales were up 4.6% to £2.9bn, investors were clearly expecting more DIY-lovers to get out their paintbrushes as the housing market improves, with shares down 5% to 376.1p at 10.25am.

Kingfisher didn't totally screw up their third quarter, though (see what we did there?) – Screwfix's sales shot up 21.1% to £180m on the back of nine new store openings, and climbed a respectable 11.1% on a like-for-like basis.

While Kingfisher CEO Ian Cheshire lamented the fact that there are 'no obvious signs of an imminent improvement' in France, he said he was 'enthusiastic about our longer-term prospects'.

Apparently, Kingfisher's self-help plan, snazzily titled 'Creating the Leader', also 'continues to progress well'. MT has visions of Kingfisher executives getting handy with a hammer and nails creating their DIY messiah, after some group sharing-and-caring therapy sessions.