Kingfisher profits fly - thanks to a bit of DIY
A little 'self-help' has helped profits jump by nearly 30% at Kingfisher, owner of B&Q.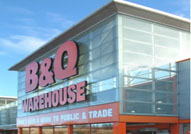 Looking out of the window today, it's hard to believe that the UK weather could possibly be of any benefit to anyone. Yet the mild late-summer and autumnal conditions have apparently helped profits rise by 28% at Kingfisher, owner of B&Q and Screwfix and Europe's biggest home improvement retailer. And it's not just the elements that have furthered its cause – Kingfisher's own 'self-help' cost-cutting strategy has also been a success, with the opening of self-checkouts in the UK and the closure of some under-performing stores in China. Good to see a company practising what it preaches…

Things are certainly looking a lot rosier at Kingfisher than they were six months ago. Like-for-like sales across the group inched up 0.8% for the 13 weeks ending October 31, with total sales up 5.6% at £2.69bn. It's doing well here in Britain, as our renewed fondness for DIY (well it's a lot easier than moving house) boosted sales by almost 6% at B&Q UK, while margins were also up on the other side of the Channel. All in all, pre-tax profits jumped to a higher-than-expected £227m, up from £176m in the same quarter last year (though admittedly, last year's results provide a pretty feeble benchmark).

Kingfisher was keen today to trumpet the success of a raft of cost-cutting measures put in place after B&Q's disastrous expansion into China last year – which resulted in a 75% drop in profits at the DIY retailer. Kingfisher admitted this summer that it had leapt in too quickly, leaving it with oversized, loss-making stores; it's now started to right its wrongs by closing some of those outlets (eating a large slice of humble pie in the process). Since 80% of its profits come from outside the UK and Ireland these days, this was perhaps the biggest reason for its latest improvement – although it's also been able to trim costs in some of its UK stores by (inter alia) introducing self-service check-outs.

Still, boss Ian Cheshire isn't getting carried away, despite this apparent turnaround in fortunes (and despite reducing the company's net debt from £1bn at the start of the year to £200m now). In fact he struck a cautious note today, expressing the fervent hope that next year's general election will improve consumer confidence. At the moment, he said: 'unemployment and tax are still weighing heavily on people's minds, despite the slight improvements in the housing market.'

Cheshire knows as well as anyone that the recent rise in house prices is likely to be a false dawn – more a function of a lack of supply than a surge in demand – which means a full recovery is still some way off. But our reluctance to move house isn't necessarily all bad news: at least some of us might head to B&Q when we decide to convert our garden shed into a guest bedroom.

In today's bulletin:
Government's RBS bonus balls-up
Google looms large over property websites
Kingfisher profits fly - thanks to a bit of DIY
Don't expect a bigger pay cheque next year
A Traveller's Tale: Dubai's Financial Mirage