Knight: Energy profits 'aren't particularly big'
Angela Knight says energy companies' profits 'are four or five pence in the pound. That isn't particularly big'. Ofgem begs to differ.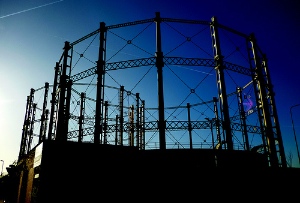 Former Tory MP Angela Knight is not a woman who makes life easy for herself. Having run the British Bankers' Association through the worst of the financial crisis, last year she took on a new role: chief executive of Energy UK, the trade body for gas and electricity firms - just as they became the new 'bad boys' of corporate Britain.

This time round, she seems just as uninterested in making friends. Yesterday on Sky News' Murnaghan Show, she defended the industry against Sir John Major's assertion it should face a windfall tax on high profits (although admittedly this morning the industry will have plenty of windfalls to deal with - just not of the financial kind).

'My understanding is that windfall taxes have taken place in the past where there've been windfall profits.

'The profits here are four or five pence in the pound. That isn't particularly big, and at the same time everybody is looking at an extremely large investment as well. So you have to make the operating margin if you're going to pay for that investment.'

With four of the 'Big Six' energy firms having raised their bills by as much as 10.4% this year, that's going to go down like a lead balloon with consumers - particularly in the week that energy bosses appear in front of the energy select committee to explain themselves to MPs.

Expect sparks to fly (pun very much intended) when the inquiry starts on Tuesday. Data by energy regulator Ofgem released on Friday all but quashed firms' claims that they have had to raise prices because of higher wholesale costs: apparently, wholesale prices have risen by just 1.7% over the past year.

That means the wholesale cost the average consumer is paying should have risen from £600 a year to £610. But on top of that rise, companies' average net profit margin per household has more than doubled, from £45 to £95.

Energy companies, on the other hand, are in fierce disagreement, saying Ofgem's methodology is flawed.

'The prices that individual suppliers pay depend on their own hedging strategies, and the Ofgem methodology is, at best, an approximation of what those hedging profiles are,' said a British Gas spokesman.

'We buy a certain amount of gas more than two years in advance, and if you look at the 24 month figure to October 2013, there has been an 18% increase in the wholesale cost.'

By SSE's reckoning, prices have risen by 4% this year; last year, they rose by 7%. And Ofgem has admitted that the price of gas this winter will be 8% higher than last year, while the price of electricity has risen 13%. So perhaps the energy companies aren't entirely bluffing. Presumably we'll find out for sure on Tuesday.