Knowing me, knowing you
Good news if, like Alan Partridge, you were one of the 6.5m people who stayed at a Travelodge last year.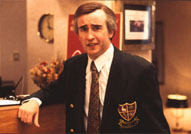 The budget hotel chain, owned by Dubai International Capital, plans to open 22 new hotels before Christmas, creating 450 new jobs. MD Paul Harvey said 'the credit crunch is forcing people to review their spending habits and we are seeing more customers shift to budget hotel accommodation.' The company will spend £125m on the 22 new hotels and plans to increase its chain to 1,000 hotels by 2020. It currently has about 350.
Business as well as leisure customers are eschewing more expensive hotels for the affordable and ubiquitous Travelodge experience. And if all you need is a clean room and an excellent trouser press, why spend more?
Certainly septuagenarians David Davidson and his wife Jean love the Travelodge experience. It's why they've spent 23 years living at the Gonerby Moor Travelodge off the A1 in Lincolnshire. Said David: 'We get great rates because we book well in advance and we even have our own personal housekeeper. It doesn't get much better than that, does it?'