KPMG is now the smallest of the 'big four'
Its UK chairman blamed a slump in profits on 'deliberate self harm' - perhaps an unfortunate choice of words.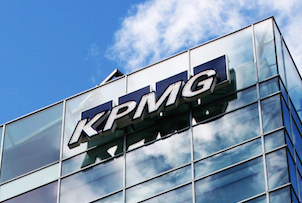 When you're already part of a 'big four', dropping down the rankings within that group is just relative, but KPMG isn't having the best time at present. It has just announced a 7% fall in UK profit for its last financial year and that it has dropped behind EY in revenues, making it the smallest among its elite group of peers.
This is the second year in a row that KPMG's profits have fallen, after increasing spending on its consulting arm and upgrading offices. While revenues increased (up 2.6% from £1.9bn to £1.96bn), the profit drop to £383m in the year to September meant partners were given a 13% pay cut. This works out as a reduction of £92,000 year-on-year – though don't shed too many tears, they were still awarded an average of £623,000 each.
Simon Collins, UK chairman of KPMG, said, 'If you look at the way we're investing this year, the profit story is more "deliberate self harm", to allow us to grow.' Dubious wording aside, he claimed the investment would be 'a springboard for growth in the future'. Well, you'd hope so, wouldn't you?