Kraft sheds three-quarters of Cadbury's senior managers
Amid reports of big job losses at Cadbury HQ, should we be nervous about Tate & Lyle's sugar business?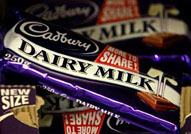 Further grist to the mill for critics of Kraft, the US floppy cheese-maker that took over iconic British company Cadbury last year: according to today's Independent, three-quarters of senior managers at Cadbury HQ have been made redundant by the new owner. In some ways, this isn't a surprise: when one big company takes over another, the latter's head office is always a prime target for the dreaded synergies (particularly when the new owner is based overseas). But, much like Kraft's cheese slices, it still leaves an unpleasant taste in the mouth - and will only heighten fears about the impact of this kind of takeover on UK plc...

According to the Indie, only 45 of Cadbury's 165 top brass have been offered jobs within the enlarged Kraft Foods business, with the other 120 being made redundant. A Kraft spokesman said this was always going to be happen, since its own HQ is in Chicago and its European chocolate business is based in Zurich. Equally, we imagine that many of those concerned will have actually wanted to leave: being one of the top managers at an independent UK firm is a very different kettle of fish to being a middle manager in the UK arm of a global conglomerate.

Kraft will presumably argue that it didn't need all these extra managers, and at least it hadn't promised to preserve any of their jobs (like it stupidly did with staff at the Somerdale plant - a mistake for which it deserved all the flak it got). But it becomes a lot more difficult for Cadbury to preserve any kind of identity when it loses such a huge proportion of its senior team all at once. For instance, as well as ex-CEO Todd Stitzer and FD Andrew Bonfield, the Indie reports that marketing boss Phil Rumbol (the man responsible for all those award-winning ads) and chief strategy officer Mark Reckitt (who'd been overseeing the integration) are among those to have left. It can't be healthy to lose so many talented senior staff in one fell swoop. Can you really see some Kraft lifer in Chicago, who spends his days flogging Philadelphia, coming up with the next drumming gorilla?

The Kraft deal - and what it's done to Cadbury since - has yielded fresh calls for changes to the UK takeover rules, to stop cash-rich foreign predators swooping on UK firms (check out Tim Smedley's piece on the subject in this month's MT). Of course, it isn't necessarily a bad thing: look at last week's acquisition of Tate & Lyle's sugar business (home of Golden Syrup, officially the world's oldest brand) by US specialist American Sugar Refining. ASR has already promised to keep all the jobs at T&L's East London plant - and since T&L has been desperate to get shut of the business for ages, so it can concentrate on its higher margin food business, the division may well be in safer hands as part of a specialist group.
Then again, if T&L couldn't make any money out of it, ASR will presumably only be able to do so with a lot of synergies. So we suspect employees won't be entirely reassured...

In today's bulletin:
BT faces its first strike in 23 years
Gloves off as spending cut soften-up gathers pace
Kraft sheds three-quarters of Cadbury's senior managers
Books Special: How They Blew It, by Jamie Oliver and Tony Goodwin
MT Expert's Ten Top Tips: Get more from your investors