Labour PFI contracts: 'good value' for taxpayers' money?
Were the infrastructure deals of the credit crunch a waste of our cash, or an essential stimulus?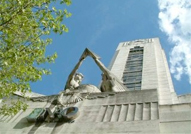 To be honest, we're not entirely sure after reading the latest report from the National Audit Office. On the one hand, the taxpayer will apparently be lumbered with additional financing costs of up to £1bn over the next five years, because the Treasury signed off a load of PFI infrastructure deals on pretty unfavourable terms during the credit crisis. On the other hand, the NAO also said the deals helped kick-start a market that was basically dead - which is exactly what the Government should be doing, you might argue...
We suspect that in the years to come, there'll be a lot more attention focused on the myriad deals signed off by the previous Labour government under the so-called Private Finance Initiative - and we wouldn't be surprised if all these 'buy now, pay later' off-balance-sheet liabilities come back to haunt UK plc at some point. This NAO report is specifically about the infrastructure projects signed off by the Treasury during the crunch - and because of the timing of these deals, the higher financing costs incurred have apparently added an extra £500m-£1bn to the cost of funding PFI projects over the next 30 years. That's all money that will have to be clawed back from us poor old taxpayers.
However, the good news for Gordon Brown et al is that the NAO still thinks the deals represented 'good value for money' at the time, because it helped to 'reactivate' the lending market for big infrastructure projects - including those not funded by Treasury cash. In other words, if the Government hadn't stepped in and swallowed some extra cost, the whole market would have broken down, adding to the UK's recessionary woes. And this kind of market failure is exactly what Governments should be working to avoid.