Labour's entrepreneur tax
The government has always claimed to be a big supporter of enterprise. So why has it just doubled entrepreneurs' capital gains tax bills? Surely not to score some easy political points?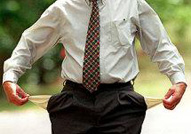 Yesterday's abolition of taper relief on CGT means that the effective tax rate for selling business assets will now go up from 10% to 18%. The move was positioned as an attack on the super-rich – a response to the row over wealthy private equity bosses paying less than their cleaners. After all, who's going to shed any tears over a tax hike for some of the wealthiest people in the country?
The problem is, this rate increase won't just apply to private equity – it will also apply to every single person in the UK selling business assets. Private equity bosses may have been the designated bogeymen, but the real losers will be entrepreneurs and small businesspeople – who probably can't afford an army of accountants to minimise their tax bills.
The new rules mean that entrepreneurs will now have to pay almost twice as much money to the government when they sell up. Is that really the way for a government to promote enterprise?