Ladbrokes boss rides into sunset after 94% profit hike
Richard Glynn says he'll leave Ladbrokes next year, after finally turning the business around. Mission accomplished?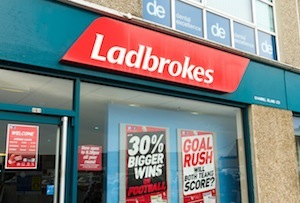 There's something to be said for going out on a high. Richard Glynn, who piloted bookmaker Ladbrokes through four turbulent, bottom-line battering years, is to leave next year, only months after Ladbrokes' profits finally began to soar again.

'It has been a privilege to lead Ladbrokes over this crucial phase,' Glynn said in the company's statement to the stock market. 'I look forward to the company... reaping the benefits, over the next few years, of all that has been sown.'

While he sounds fairly chipper there (in a sort of Biblical epic way), it's not known whether Glynn's exit was his idea. Shareholders had been unhappy for some time over the firm's dwindling profits, and it's hard to imagine they were thrilled with his 85% pay rise (to £4.7m) in 2013, when prospects were at their bleakest.

Indeed, the Telegraph reported in February that investors had given him an ultimatum to meet certain 'milestone' targets or face the chop by August. Apparently, Ladbrokes met all those targets, and Glynn stayed, overseeing its rather spectacular return to form in the third quarter. Profits in the three months to September 30th rose 94% to £33m, although much of this may be to do with a little football tournament that apparently took place over the summer.

Glynn's exit may just be a case of mission accomplished, then. He took the job in 2010 with the expressed purpose of boosting Ladbrokes digital offering and, by the looks of it, that's what he's done. Digital revenues were up 45% in the last quarter, year on year, though we'll have to wait until Ladbrokes full year results are released in February to figure out how much of that is mere World Cup ephemera.

Glynn's staying in place into next year, while the firm looks for a successor. He or she is likely to come from outside the bookies, as Retail Director Nick Rust, who would perhaps have been the natural replacement, himself left last month to run the British Horseracing Authority. Either way, investors seem nonplussed. Shares edged up 0.8% on the news, to 114.3p.