Ladbrokes shares tumble as investors back Betfair
Shareholders are fleeing Ladbrokes after it announced slower trading in Q1 this year, but they're flocking to Betfair after news of a possible takeover...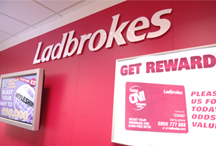 If you play the markets, it'll take a brave punter to have a bet on Ladbrokes today. The firm announced that pre-tax profits fell £13m to £37.4m in the three months to the end of March, sending the share price plummeting 8% in morning trading on Monday. It blames a drop in profits at this year's Cheltenham races as well as less spent by the wealthier gaming customers.
The firm said that it had always expected the first quarter to be slower, but that its full-year profits will now most likely be at the bottom of analysts' expectations. Chief executive Richard Glynn said: 'The trading environment and economic conditions since the start of the year have remained challenging, which when combined with a number of specific one off factors in the latter part of the period, have driven a softer first quarter than expected.'
Conversely, Betfair had a stormer in the news bulletins on Monday. Shares soared 12.2% in early morning trading thanks to the news that key shareholders Anthony Ball and Richard Koch have been in talks about a possible takeover by private equity firm CVC Capital Partners. Chairman Gerald Corbett, said: 'Our management team is implementing the new business plan for the company and we remain fully committed to delivering on the news strategy and providing improved returns for our shareholders.' That's a touch jargonistic, but we're assuming a sale to CVC would involve a juicy payout to investors.