Last chance saloon for Punch as losses soar
Embattled pub group Punch Taverns sees losses quintuple to over £400m, after a £663m write-down.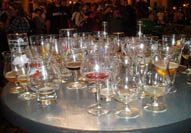 That figure compares with a loss of 'only' £80m last year, so things are getting very rapidly worse for chief exec Giles Thorley and his long-suffering shareholders. That's despite the fact that the chain – which owns 7,700 pubs, 835 of which it manages directly – is still selling a not too shabby £1.4bn of booze a year, down by a relatively modest 8%. And that the controversial 'beer tie' compels all its landlords to buy their ales via Punch, to boot.
A cosy enough set up that ought to make it fairly straightforward to turn a profit, you might think. So what went wrong? The biggest fly in Thorley's G'n'T is another impairment charge - £663m - on the recession-hit value of Punch's estate. That's on top of similar write-downs totalling £600m incurred over the past year and a half.
That scale of write down would be bad for any business, of course, but what makes Punch especially vulnerable to falling asset values is the fact that its debts – a frankly eye-watering £3.8bn – are secured against its estate. That's now valued at £5.4bn, substantially less than a year or two ago. That's a lot of gearing in anyone's language, and means that even when it is trading in line with the market these days, Punch struggles to service its borrowing.